How
How Mycelium is inspired by mycelium's way of developing, the way contemporary artists work and the relevance of proven best methods
What makes us different, in a nutshell:
Mycelium is the metaphor to define our activity. Mycelium provides nutrients that other organisms need.  It is also an organic network, in constant reconfiguration according to the obstacles. This seems an accurate metaphor as we help clients to have an informed vision of their possible futures through thorough research, to ramify possibilities, and determine the right nutrients. And as with mycelium, we happily work as a network.
One field that particularly nourishes Mycelium, and that can be passed on, is the knowledge of contemporary artists, both in their methodologies and in their works, their imagination. It is this approach that feeds on contemporary art in addition to our way of working in a network, which characterizes our work as a foresight strategists.
Finally, we consider that strategic foresight is only of interest if it provides the basis and the conditions for either an informed decision or triggers a series of actions. Therefore, we give a special importance to the methods of structuring the work so that the results are actionable.
Our guidelines, our compass or what makes us different, not in a nutshell
Taking a cue from the mycelium
Foresight as Mycelium practices it plays on the metaphor of the mycelium.
The mycelium is the vegetative apparatus of fungi or certain filamentous bacteria*. Generally not very visible, it is composed of a set of filaments, more or less branched, called hyphae, which are found in the soil or the nutritive substrate. It ensures several major biological functions: exploration, nutrition, growth, defense ... It feeds the fungus and its environment in a mutually beneficial relationship. It serves as an interface between plant roots and nutrients.
Strategic foresight starts with exploration. It contributes to nourish organizations. It equally work across boundaries (mental, moral or academic), connect individuals, contributes to sustainable growth, enables the creation of a strong shared vision or/and participates to thought processes renewal. It allows informed action and a pro-active mindset.
This is Mycelium Foresight Studio's goal. It may sound abstract, but it couldn't be more down to earth.
No pun intended.
* source Wikipedia, my own translation from French to English.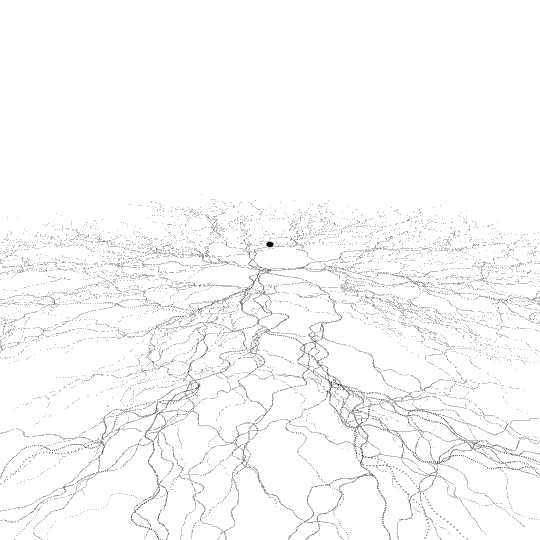 ';
Taking cues from productive, efficient and proven strategic foresight methods.
Scenario building technique and 2x2 matrix system
Horizon scanning techniques
Trend mapping techniques - Future wheel
Weak signals spotting
Gaming techniques (SES exploration system, bespoke boardgames, wargames, The things from the FutureTM)
Taking cues from artists and their studios
The founder of Mycelium Foresight Studio, Valerie Chartrain, has worked for 15 years in contemporary art as one can see here and there. This experience benefits the way Mycelium Foresight Studio practices strategic foresight. We believe that art, in its various forms, has a real relevance for the theory and practice of foresight.
Art is a mean to catalyze future change. Artists and designers solve problems, develop visions through the constant movement between analysis, deduction and making. They build on existing practices, they break down forms and reconfigure them (1); they investigate new technologies (2) and new materials. They build models and prototypes. They make powerful ideas tangible (3). Art requires the ability to think critically (4), to ask questions, to act and to make decisions.
Art is unsettling too - it engages in sensory experience, emotion, motivation, play, the rational and the irrational, the uncomfortable, the uncanny and the impressive. These diverse perspectives nourish Mycelium Foresight Studio's philosophy. The companionship with artists becomes a method of exploring possible realities, and strengthened by the methodologies of foresight, Mycelium Foresight Studio allows you to navigate complexity, to make sense of complexity.  
The artist's studio is in constant movement, a place of connections. It is the place where expertise circulates and ideas and visions are transposed, and this methodology is also the one that Mycelium Foresight Studio has chosen to adopt by developing a network of experts (discover the experts here).
And Mycelium Foresight Studio is committed to involving artists in its work to stimulate perspectives and results.
(1) For example, no one had thought of modelling spider webs in 3D and adding sound to it before Tomas Saraceno had the idea to do so. He is also at the origin of "Aerocene" .The series consists of air-fuelled sculptures, one of which – during its test flight in the White Sands – floated passengers for up to 3 hours using only solar power, making it the world's first fully-certified solar flight. Link
(2) No researcher had thought of creating sperm from female stem cells before Charlotte Jarvis started her research.
(3) Trevor Paglen threw a stone into the space pond in 2019 by launching Orbital Reflector and raising the question of the right to access space. 
(4) In the film In the Future They Ate from the Finest Porcelain by Larissa Sansour and Søren Lind which imagines archaeologists of the future discovering fictive ruins.